February 2018 is Lead with Languages Advocacy Month.  A national campaign powered by ACTFL, Lead with Languages is a movement:
To make languages a national priority
To create a new generation of Americans competent in other languages and cultures
To better equip the next generation to compete and succeed in the 21st Century
Throughout the month of February, Lead With Languages will be celebrating stories from students, parents, teachers, and other community members who advocate for language education across the United States.  Check out the Lead with Languages website for lots of great resources and ideas and be sure to download the social media kit.
February is also the time when students start thinking about their future classes and registering for next year.  In addition, March 4-10 2018 is National Foreign Language Week, so it's a great time to advocate for languages, download the poster here.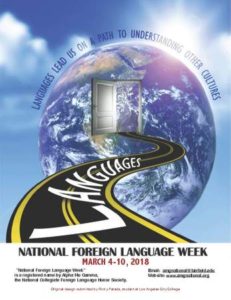 Here are some ways you can raise your voice and involve your students in support of language learning.  Organize students to work in pairs or groups to discover all the resources the Lead With Languages website has to offer through a virtual scavenger hunt.  Encourage students to read the Top Ten Reasons to Learn Languages  and these pages  Middle & High School or College & University to launch a class discussion.  Then have students make infographics or posters to advocate for world languages and display them around the school or in the community.
Consider organizing an advocacy poster contest for your school.  My students make "Did You Know…posters" with facts about world languages and display them around the school.  Now is a great time to have students enter the WAFLT poster and video contests.  Posters and videos should encourage the study of world languages and are due April 15th, 2018.  There are cash prizes for different age groups.  Check out the WAFLT website for more information.  Also, many language associations offer poster and video contests.  The deadline for the AATSP National Poster Contest is April 1st, 2018.
Ask students to write a brief, blog-style essay about what inspires them to learn a language, an immersion experience they've had, or following an interview with a native speaker and submit their post for possible publication on the Lead with Languages blog or publication in the WAFLT Forum.
Encourage students to follow and engage in social media and share how they recently used their language skills by tagging #LeadWithLanguages on Twitter, Facebook, and Instagram.  Download this sign and submit a selfie at #LeadwithLanguages. supporter1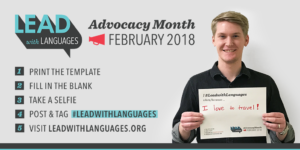 Spread the word in your community.  Change your profile picture on social media platforms to include the Lead with Languages logo.  Share all of the Lead With Languages resources with others in your network.  Put "February is Lead with Languages Month" or "March 4-10, 2018 is National Foreign Language Week" on your school marquee or on signs in your community.
How do you Lead With Languages?  Join the conversation and share your advocacy activities here.