Core practice number #5 is use authentic texts for interpretive tasks.  Authentic texts are basically anything made for native speakers by native speakers, and interpretive tasks involve listening and reading. Authentic resources can be commercials, videos, comics, books, magazines, websites, menus, flyers, things we use to call realia.
Where do you get them?  Pinterest is my go to website for finding authentic resources. There are also great teacher websites.   The Creative Language Classroom is great for authentic resources in Spanish.  The jackpot for authentic resources in Spanish is http://zachary-jones.com/zambombazo.
Catherine Ousselin's website is my go to for authentic resources in French.  The AATF YouTube, the AATF delicious bookmarks, and the AATF Pinterest pages are filled with ideas and resources. https://www.youtube.com/user/aatfrench/playlists?flow=list&view=1  A really great resource is 1jour1actu.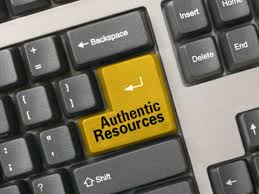 Magazines are great for novice readers, they provide context clues through pictures and include basic info like biographies, ages, nationalities, activities, dates. Learners can look for cognates, context clues, and make lists of key words. They can read for main ideas, describe details, make inferences, and give opinions which support common core state standards. I really like People en Espanol.
Every year I add children's books to my classroom library. I get most of my Children's books from Scholastic.com. It's worth joining the book club just to get the free book flyers each month filled with high interest and seasonal vocabulary.  Look for Club Leo in Spanish at Scholastic.com and Club de Lecture in French at Scholastic.ca.
No time to look for authentic resources? Have learners find newspapers, flyers, menus, and schedules in the target language at local businesses or online.  Newspapers have product ads, coupons, and shopping information to make better purchases.  Learners can find a job, read the comics, do the crossword puzzle, or check the weather, the game scores, or their horoscope.  Separating fact from opinion in letters to the editor and verify reliability of sources also supports CCSS.
You can follow people, topics, and companies in the target cultures on Facebook, Twitter, or YouTube. Movie trailers and other authentic videos are available on YouTube. When searching for resources make sure your query is in the language you teach for best results.
There are 30+ activities to use with authentic resources on the creative language classroom website.  I really like the idea of keeping some generic reading and listening forms to use over and over again with different authentic resources. Here is a Interpretive Guide Template to use with authentic resources. The  Ohio Department of Education also has an Intepretive Guide Template and Rubric.
Here are some other generic activities that you can use with any authentic text with very little advance preparation. 5 words  This activity can be done before reading to activate background knowledge about a topic or after reading as a summarizing technique.  Students list five words that come to mind when they think of a particular topic. Students get into groups and discuss their words. The group selects three words to share and explain to class. five words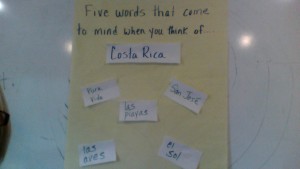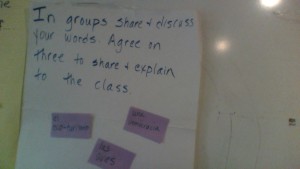 Other generic reading activities include word splash and  give one get one. Reading Strategies.
Authentic texts embed culture, vocabulary, and grammar.  Authentic resources are higher interest to students than most textbooks. How do you design interactive reading and listening comprehension tasks around authentic resources to embed culture and hook students?