Last June while doing final interviews, I used this rubric from Jefferson County Public Schools which I found at the Creative Language Classroom website.  When I explained the rubric to my eighth graders and told them that to reach novice high or intermediate low they needed to start stringing  sentences together on various topics.   It became like a game to see who could make the longest sentences or say the most on a single topic. I was impressed with the amount of language they were using and the original sentences they were creating.  Click here to download this rubric.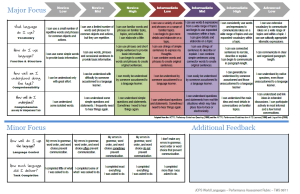 This summer,  I found this path to proficiency poster on pinterest thanks to the SCS World Language program and I am going to start school showing the students the target instead of waiting until the final exam.  Click here for link to this poster.
On the first day of school I have the students write down anything they can say in the target language on a piece of paper.  I collect them and score them on the rubric. Most students are novice low.  At the end of the year I do the same thing, ask them to write about themselves and score their papers with the same rubric..  Most students can write on a variety of topics to land between novice high and intermediate low.   This becomes evidence of student growth for my evaluation and the students are impressed by how much they have learned.
Check out this free resource http://www.creativelanguageclass.com/product/proficiency-indicator-signs/